Should I Hire an Independent Financial Adviser?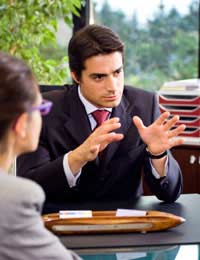 The fact that you are reading this article suggests that you are already taking an active interest in the financial future of your dependants and beneficiaries. However, the mire of financial regulations to which you must adhere can seem hugely confusing. This is particularly true in the case of inheritance issues; the prospect of navigating the complexities of inheritance law is daunting if you are not already well versed in finance. As such, you may wish to consider seeking professional advice from an Independent Financial Advisor, (IFA).
How can they Help?
Independent Financial Advisors are trained to offer impartial advice on all financial matters, although some may specialise in particular areas such as tax or inheritance. In the first instance, it is important to remember that many financial advisors (as opposed to IFAs) are not independent or impartial. For example, many banks offer free financial advice to current or potential customers. However, the primary motivation behind this tends to be a desire to sell a new financial product to the individual seeking advice. As such, the advice is unlikely to be impartial.
As a result, if you are seeking financial advice you are likely to be better off paying for the service. There are hundreds of IFAs around the country that will give fee-based advice; this helps to ensure that they are truly independent, as they are being paid for their expertise rather than their abilities as a salesperson.
There is a misconception that Independent Financial Advisors are the preserve of the very wealthy. In reality, a good IFA may well be able to help save you money, regardless of your financial situation. Inheritance planning should be a priority if you think your estate will be affected by Inheritance Tax; further information on the effects of this tax are available elsewhere on this site.
However, even if you think your estate will fall below the Inheritance Tax threshold, an IFA may be able to help you minimise other tax liabilities. They will also be able to help you identify allowances which you may not be using, or benefits to which you may be entitled. Billions of pounds worth of benefits and tax breaks go unclaimed every year in Britain, and an IFA will help you get what you are owed.
Free advice
It is also worth remembering that Independent Financial Advice is available for free in certain places. Many charities, particularly Help the Aged, employ IFAs for those on whose behalf they act. For example, if you are over 65, it is likely that your local Help the Aged branch will be able to provide an IFA, possibly at your home, for free or at a heavily discounted rate.
The Citizens Advice Bureau (CAB) also has a number of volunteer IFAs on hand to offer free financial advice either over the phone or in branches. In contrast to Help the Aged, this advice is available to everyone, regardless of age. The CAB website will help you identify your nearest branch.
Reputable financial advice can do wonders for your financial situation. However, in order to make sure you are getting truly independent, impartial information, you should consider using either a fee based service or a charity.
You might also like...