Consulting a Solicitor About Inheritance Issues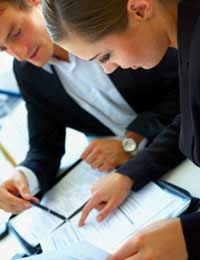 There are various reasons why you may wish to consult a solicitor when dealing with inheritance tax. Here are some outlined below.
Consulting the Solicitor of the Deceased
If the deceased has made a will there will it is quite likely that they will have consulted a solicitor and that, further, that solicitor will know more about that will than anyone else living. This will be essential in dividing up money amongst those that survive the deceased and will be further invaluable in calculating the value of the deceased's estate. It will also enable you to decide if the deceased had elected a person to act as their representative after their passing. It is this person that must take care of Inheritance Tax affairs. You may also wish to consult the solicitor of the deceased to see if they can help you to ascertain how whther the deceased had any debts owing or owed. Put simply, the solicitor who acted on behalf of the deceased in their lifetime will be a vital source of help, if they indeed had used one at all.
Approaching a Solicitor to Help Adjudicate in the Case of a Disputed Will
Should problems arise with the will you may wish to consult solicitor to hold up your case. This can arise if someone feels that they have not received a reasonable amount of inheritance under the terms of the will, or if no will is left as the law in place of a will is deemed inappropriate by one or several of those who feel they have stake in the will. Unfortunately the dispute would in any case need to go to court, making a solicitor useful from the offset.
Disputes Arising Over Inheritance Tax
You may wish to consult a solicitor should disputes arise over inheritance Tax. This will primarily concern the amount of tax due, if you feel that this amount is too much.
Planning Your Inheritance Tax and Will
You may wish to consult a solicitor in order to unravel the complex workings of the law involving Inheritance Tax. In doing this you may be able to avoid paying as much inheritance tax as you otherwise would have paid on your Estate. Specialist accountants may be able to help you similarly.
You may also wish to see a solicitor with regard to writing your own will, although you can do this and make tax arrangements alone.
Finding a Solicitor
If you are looking for the solicitor of the deceased ask around family members to see if they know who they had dealt with. Failing that, ring around all solicitors in the area local to them when they died, and then those in the areas that the deceased had lived in prior to that. When you have found one and ascertained who had been named in the will to look after the affairs of the deceased you must contact them: the solicitor will not relay sensitive information to you unless you are that person.
To find a solicitor for yourself contact the Citizens Advice Bureau local to you, or the Law Society.
You might also like...